FRIDAY, MAY 7 UPDATE – online sales are ending tonight.  If you have not yet purchased a book, we will sell any remaining after distribution on Monday, May 10 around 3:40 – 3:50.  Yearbooks will then be sold from the office as supplies last.
2020- 2021 Mariner Logbook:  Yours is only a few clicks away, CLICK HERE to order online today!  You can also purchase with cash or check at the front office.
We can't wait for you to see what's inside.  Here's a sneak peek (click on Our Story): "Our Story"  2020-21 Mariner Logbook.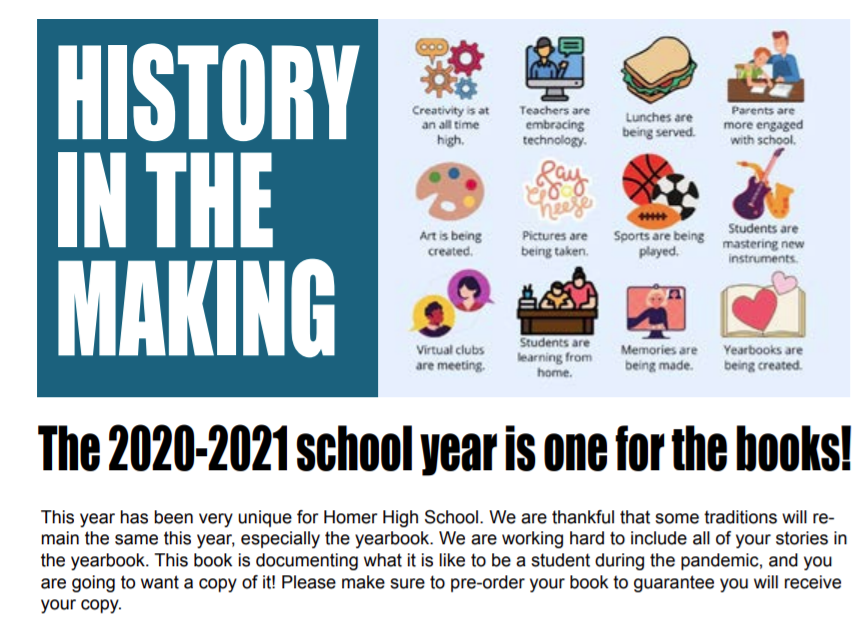 *December Update*
All students should have received an email from Mrs. Bishop with a Google Form to submit your school portraits.  If you did not, please email sbishop@kpbsd.k12.ak.us PORTRAITS are due by January 31, 2021.  Thank you!
You MAKE the year, we make the BOOK!  
Want to purchase a yearbook?  You can purchase using a credit card at this link: http://jostensyearbooks.com/?REF=A09533000 or drop by the HHS office with a check for $80.00.
2021 SENIORS – click here for senior information!
*November Update*
Greetings HHS Mariner families,
We wanted to get some important yearbook details to you. This is going to be one of the most historic yearbooks we've ever created, and we encourage your participation! We're excited to have new content in the book. While our traditional events might not be happening, there is still quite the student life story to be documented.
If you have a story for us to include in the book, send it our way! You can reach an editor at: mya.houglum@g.kpbsd.org, paige.jones@g.kpbsd.org, katelyn.engebretsen@g.kpbsd.org, or mariah.mcguire@g.kpbsd.org.  If you have a photo you would like to send for consideration, please upload it here https://images.jostens.com/415464088.  Make sure to include any important details along with your photo (who is in the picture, the occasion, etcetera).
Periodically, we will be reaching out, asking for you to answer a survey or submit a picture. Be on the lookout for that. You can follow us on social media at Instagram, hhs_spiritpage, and Facebook, Homer High School, and we'll also post updates to our school website https://kpbsd.org/schools/homer-high/ Find It Fast – Yearbook.
This book will tell the unique story of this year, and we are excited for you to be a part of it!
A few other yearbook details:
To buy a book: drop off a check at the main office for $80 and complete an order form.

To purchase an ad: For senior parents, we offer the opportunity to purchase a recognition ad to celebrate your son or daughter's achievements and to congratulate them. Ads are due by January 31, 2021. To buy one or for more information, visit the

Mariner Logbook Yearbook

webpage.  

Portraits: submit your photos via this Google Form: 

https://forms.gle/qU8fKgJjp5R26HZt9

 

We also include tips for taking your School Portrait at home on the next page.
 Sincerely, Suzanne Bishop, Yearbook Advisor; Editorial Team: Mya Houglum, Paige Jones, Katelyn Engebretsen, Mariah McGuire, and the Yearbook Staff
Want to share your photos with the yearbook staff?  Use this link from Jostens to share directly with us.  Here it is again: https://images.jostens.com/415464088
Questions?  Call the main office at 235-4600 or email sbishop@kpbsd.k12.ak.us